Mr. B's - Grant's Service Centre - Squeaky's Convenience Store - Mary's Bake Shop
Marty's Electric - Shelley's Shears - Johnson Guardian - Roy's Repair Shop - Tobique Tobacco
Independent Grocer (Thursdays) - Perth Elks Lodge 362 - Royal Canadian Legion, Branch #36
Independent Grocer (Thursdays only)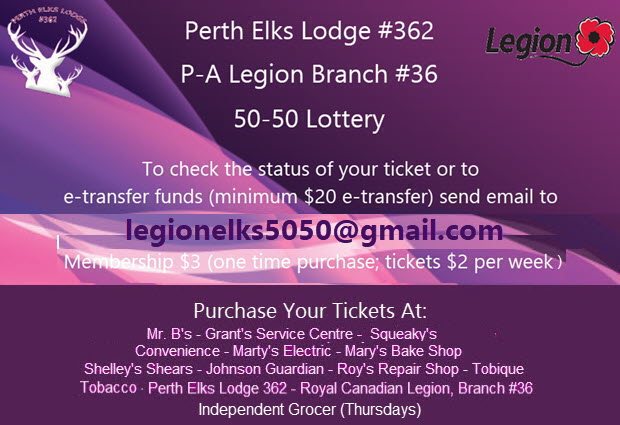 The Perth Elks Lodge, in cooperation with the Royal Canadian Legion Branch 36, operates the weekly 50-50 draw. Draws are made every Friday at 5:30PM. Participants are required to purchase a one time $3 membership and a weekly $2 purchase to be eligible. Should there be a non-winner, the money is carried over to the next week. We are extremely grateful to the local P-A businesses who have volunteered to sell memberships and tickets for this lottery. The members' list will be updated every two months and members who have not purchased tickets within the previous two years will be removed from the active members list.
2023

January 6
Non winner Elvis Sappier $1300
January 13
Non winner Faith Moorcraft $1961
January 20
Bryce Bishop $2654
January 27
Jennifer Eagan $661
February 3
Dawn Bishop $679
February 10
David Paul $656
February 17
Linda Toner $660
February 24
Tanya Hoyt $662
March 3
Lewis Bryson $644
March 10
Darryl Swazey $640
March 17
Non winner Debbie Looman $641
March 24
Frank Pirie $1290
March 31
Danny Moulton $634
April 7
Non winner Greg Dougherty $638
April 14
Non winner Lukas Butler $1293
April 21
Sharon Gaunce $1966
April 28
Kathy Christensen $653
May 5
Butch Evans $636
May 12
Non winner Jon McDonald $629
May 19
Non winner Gail Pickett $1259
May 26
Mark Fitzherbert $1931
June 2
Non winner Janet Gee $661
June 9
Non winner Claire Doherty $1301
June 16
Judy Gaunce-White $1981
June 23
Kathy Swazey $657
June 30
Non winner - Guylaime Ouellette $630
July 7
Cheryl-Rick Taylor $1272
July 14
Non winner Wendy Perley $626
July 21
Non winner - Jerry Upton $1240
July 28
Non winner Aaron Bear $1885
August 4
Sheila Sappier $2554
August 11
Eric LaFrance $648
August 18
Non winner Angel Moulton - $634
August 25
Tara Francis $1268
September 1
Gary Pelkey $633
September 8
Danielle Sappier $620
September 15
Anna Finnamore $613
September 22
Kathy Swazey $603
September 29
Delbert Moulton $604
October 6
Mary Parker $596
October 13
Samantha Sappier $598
October 20
June Morrell Bowmaster $607
October 27
Non winner - Ricky Moulton $607
November 3
Non winner Tim Broad $1205
November 10
Tracy McCrea $1830
November 17
Roger Nye $631
November 24
Non winner - Sue Oakes $633
December 1
Steve Muckler $1253